ELECTRO MOTIVE RECORDS/ QUALIPY MAILORDER

MALCOLM MOONEY and the TENTH PLANET - Live at the Layover, Oakland



1517 Franklin St. near 15th St.



FRIDAY 29 JANUARY - 8:00 PM show
Malcolm Mooney • Jim Hrabetin • Jason Stamberger • Peter Conheim • Miles Stegall • Marc Weinstein
$11 Advance (includes ticketing fee) / $10 Door

PRE-SALES HAVE ENDED, but there will be 30-40 tickets available at the door.


VINYL
CD's/CASSETTES
OTHER STRANGE ITEMS WE SELL

ALL LISTED PRICES ARE POSTPAID IN THE USA/CANADA
Outside of the USA or Canada: YOU MUST ADD ADDITIONAL POSTAGE MANUALLY!
Use link at the bottom of this page to complete your international order.
NEUNG PHAK (MONO PAUSE) NEUNG PHAK 2 (Abduction 47)
NOW AVAILABLE ON CD! LP VERSION IS OUT OF PRINT
In the pantheon of Western-tilted South East Asian tribute groups, Oakland, California's Neung Phak (pronounced: "Noong PAHK") have carved out a decade's worth of inspired and unique recordings and performance since their 2001 debut (birthed as a spin-off from legendary Bay Area group Mono Pause). Galvanized by exposure to thousands of South East Asian cassette tapes, LPs and radio broadcasts harvested during years of travels (co-founder Mark Gergis is a key conspirator with international record label Sublime Frequencies), the 7-piece group play folk and pop sounds from Thailand, Cambodia, Laos, Indonesia, Vietnam and elsewhere, using a variety of Western and non-Western instruments. Neung Phak delivers international sounds that trade the gloss and sheen of so-called "World Music" for the energy and unpredictability you can find when you're somewhere else. After two releases on Abduction and several performances and tours, Neung Phak have returned with their second full-length studio LP. Neung Phak 2 showcases molam-folk pop and acid-rock hauntings from Thailand's yesterday and today, Javanese dancefloor dangdut, and Cambodian instrumental dramas -- all retold in inimitable Neung Phak parlance. The stunning Indonesian pop gem, "Bang Toyib," features guest Alan Bishop (Sun City Girls) on Bahasa vocals. Thai dance-pop cuts "Poot" and "Poo Jud" feature veteran singer Diana Hayes. The damning "Fucking USA" was purportedly recorded in a North Korean studio -- and the epic retelling of the classic southern Thai-styled "Sad Chatri," closes down the album in sprawling, psychedelic form. (ALSO: Order Neung Phak's 2003 debut CD right here.) [Abduction Records]
$11.00 US & CANADA ($16.00 International Orders)


SPECIAL LIMITED 2-FER DEAL - Order "Neung Phak 2" on CD and get it with the debut Neung Phak CD as a bundle for $15/postpaid in U.S. & Canada! $15.00 US & CANADA ($20.00 International Orders)

VINYL - LP. 10". 7".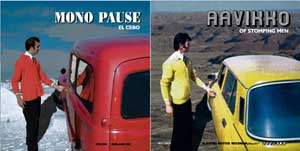 MONO PAUSE / AAVIKKO EL CEBO / OF STOMPING MEN 7" (CPA-020/Seeland 525)
Two like-minded purveyors of Muysic split a 7" single, each covering one-another's tunes. Oakland's Mono Pause pulls a deconstructivist take on "El Cebo" from Aavikko's Derek! LP, and Finland's mind-bogging Aavikko boils "Of Stomping Men" (from Mono Pause's Peeping Through the Listen Hole LP) down to a previously-hidden essence. This is a co-release between EMR and the Seeland label, released to coincide with both bands' "Finland-Oakland International Cooperation Tour" of July 2002.
$6.00 ($11.00 International Orders)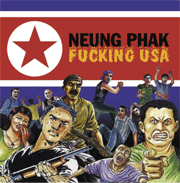 NEUNG PHAK (MONO PAUSE) FUCKING USA EP 7" (Abduction 31)
When Pyongyang Airlines flight 009 from North Korea landed at San Francisco International Airport, the members of Neung Phak stepped defiantly onto the tarmac, clutching the master tapes for their compelling new single "FUCKING USA", which were rushed to Abduction records for immediate release. This is the first recording ever made by "Americans" in Pyongyang's Kim Studios...and it shows! The extended play B-side features two live recordings from WNUR FM in Evanston, IL: a new version of the Thai classic "Tui Tui Tui", and a journey into experimental pop balladry that is second to none - a radio friendly "Far King USA". This vibrant explosion of color and hatred comes dressed to kill in a beautiful package on the thickest vinyl there is. Neung Phak backsides the forefront once again! (Edition of 300 copies, thick vinyl, and full color picture sleeve!)
SOLD OUT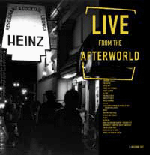 VARIOUS ARTISTS LIVE FROM THE AFTERWORLD 2 LP SET (CPA-018)
The Heinz Club in Oakland hosted the East Bay's most revered live venue from 1991-93, The Afterworld Lounge. This awesome commemorative double LP compilation features many of the fine bands who played there including THE THINKING FELLERS UNION LOCAL 282, RUINS, SUN CITY GIRLS, THREE DAY STUBBLE, MECCA NORMAL, FIBULATOR, LITTLE MY, THE MOLECULES, ROVA SAXOPHONE QUARTET/RUBBER CITY, PLUTO, SPLATTER TRIO, O-TYPE, C.C.C.C., STICKS AND STONES, BLOWJOB, CRAWLING WITH TARTS and more, all in otherwise unreleased performances recorded live at the Afterworld! This is a limited-edition item of 600 copies.
$14.00 ($23.00 International Orders)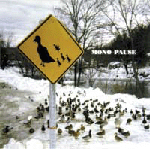 MONO PAUSE
PEEPING THROUGH THE LISTEN HOLE
LP (CPA-019)
1999 issue by these eccentric purveyors of "situationist" music; improv-rock to binaural field recordings to Middle Eastern pop and beyond in 37 minutes. Mono Pause features members of all sorts of (living or dead) off-balance Bay Area ensembles, including Fibulator, Negativland, Porest and others. Their LP debut presents 10 unclassifiable tunes, original and originally purloined, lovingly rendered to virgin vinyl.
"(Mono Pause is) the best since...I dunno. Spy-fi." - Moe Staiano, Moe!kestra

"One of the Bay Area's best-kept secrets" - SF Weekly
$11.00 ($20.00 International Orders)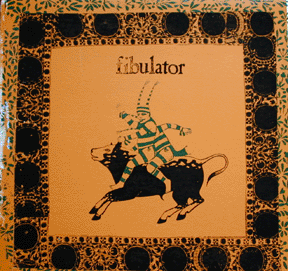 FIBULATOR
drankfromtheasphalt LP (CPA-013)
Third and best release by this shimmering female vocal-driven combo. In a netherworld between Henry Cow/Art Bears and Pylon there lived this much-loved band who never got the national attention they deserved. Moody, angular, exhilarating pop from a band whose members eventually drifted into Grand National, Fuck, and Mono Pause. Each copy in unique hand-painted sleeve.
SOLD OUT





FIBULATOR EVEN FROM HERE YOU LOOK BIG LP (CPA-010)
Second release draws in part from their hard-to-find cassette-only first album and adds a host of exhilarating tunes for a strong vinyl debut. Silk screened sleeve, no two alike. (1992)
SOLD OUT - for the last copies, try: http://www.subterranean.org/main/bigcat.html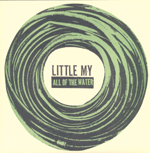 LITTLE MY
ALL OF THE WATER 7" EP (CPA-016)
West Oakland's late, great power unit checks in with their final release for Electro Motive. This extended-length 7" (almost 20 minutes worth!) also features the return of original vocalist Nat Parsons through four high-density tunes. Alternately jaunty and brooding crunchy rock from one of the best-loved pop bands of the East Bay.
$5.00 ($10.00 International Orders)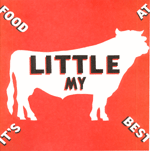 LITTLE MY
IT'S FOOD AT BEST 10" EP (CPA-011)
The pivotal release by the tremendous trio in its best-known lineup, this four-song EP became a critical favorite for its utterly original power-pop craft. White-knuckle guitar and a throbbing rhythm section made Little My's records and live performances unforgettable, and this extremely rich production by Greg Freeman (Pell Mell) brings the hard edge to the fore while allowing their finely-honed tunes to shine through. We might even throw in a duplicate vinyl disc with the wrong label on it for you to tack on your wall. Or throw out.

$6.00 ($11.00 International Orders)
UBZUB
FLUORESCENT SUBCUTANEOUS ALIEN HUT 7" EP (CPA-012)
Their first ever release, 4 great songs, versions unique to this 7". Weird pop for worm people, recorded the day Waco's Branch Davidian compound burned. Legend has it that members of Japan's legendary Boredoms had a fistfight in a San Francisco record store over the store's remaining copies of this record.
SOLD OUT

CDs / CASSETTES
NEUNG PHAK (MONO PAUSE) CD
Bay Area musico-pranktitioners Mono Pause have spent more than a decade in a host of different guises, from right-wing, pro-war Operation Desert Storm vets to an unclassifiable improv combo playing to a room of blind listeners, so they appear just as comfortable with this ethnographic pop exercise known as Neung Phak. This CD is a non-stop barrage of Thai, Cambodian, Vietnamese, Taiwanese and West Oaklandese cover songs (and like-minded originals) which has climbed college radio charts as it leaves heads too busy bopping around to its catchy tunes to be scratched in confusion. Both current-ish Southeast Asian pop hits and morlam country styles bump up against each other in a host of languages and dialects, and the result is an upbeat and danceable pop record on one hand, and a severe blurring of nationalities on the other. There's even a "secret" guest appearance by Sun City Girls' Alan Bishop.[Abduction Records]
$10.00 ($15.00 International Orders)
POREST PRUDE JUICE FOR THE HERITAGE SWINGER CD (CPA-022/SEELAND 528)
Critically-acclaimed debut release from Bay Area cutup/sonic solutionist Porest (also known as Mark Gergis of Mono Pause), co-released with the Seeland label. Porest manages to breathe new life into the sometimes-stale "plunderphonics" genre (can something so intrinsically part of current popular culture really be called a genre?) by presenting this extremely entertaining 40-minute menu of 19 very different pieces. Sampled from sources as diverse as 16mm educational films with phony Scandinavian narrators (for the hilarious "Fist Dumplings"), Gergis' own field recordings from the Middle East and elsewhere, intercepted radio transmissions, instrumentation and much more, Prude Juice for the Heritage Swinger adds up to a very unique and endlessly repeatable album. [Seeland]
$10.00 ($15.00 International Orders)

VARIOUS ARTISTS AZADI! 2-CD SET (FM-01/CPA-021)
A co-issue with San Francisco's Fire Museum Records label, this mammoth and eccentric two-disc set is a benefit compilation for RAWA, Revolutionary Association of the Women of Afghanistan, featuring generally exclusive tracks from such performers and groups as Deerhoof, Mono Pause, David Slusser, Godspeed You! Black Emperor, bran(...)pos, Zeek Sheck, Spezza Rotto, Faun Fables, Miya Masaoka, and bazillions more. Also includes rare cuts by Meena, RAWA's founder (who was assassinated in 1987 by the Afghan KGB), and legendary Afghan singer Merman Parvin. 36 tracks in all across two CDs. Click here to see the full track listing.
$11 ($16 International Orders)
proceeds benefit the continuing works of RAWA

UBZUB ALIEN MANNA FOR SLEEPING MONKEYS CD (CPA-017)
The first full-length release by the Bay Area's premiere costumed space aliens! This well-armed band of musical earthworms has unleashed over 60 minutes of songs originally channeled by a group of sightless cave animals deep within the pyrenees, recreated using 20th century recording technology and wrapped in lovely cover art. The result is a tumultuous tunefest with a decidedly pop bent and a smidgen of greasy grimy gopher guts. Pulsating weirdness Ubu, Beefheart, and Residents fans should, and do, love.
$10.00 ($15 International Orders)

MONO PAUSE SET THE CONTROLS FOR THE HEAD OF THE DUCK CD-R (QUALIPY #3)
This amorphous bunch of ex-toy manufacturers, originally from River Falls, Wisconsin, USA, checks in with a moody, entirely improvised debut full-length. Guitars, dueling basses, horns, keys, toys, et al in a swirling spy-fi soundscape. Features members of Fibulator and Ubzub in a very different context. Originally issued on cassette, now with 35 new minutes of music!
$6.00 ($11.00 International Orders)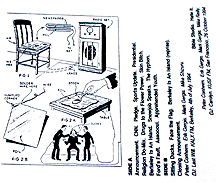 MONO PAUSE HEARING RADIO THROUGH YOUR TEETH CD-R (QUALIPY #4)
Live radio performance by this East Bay ensemble, improvised/composed as a 4th of July fireworks simulcast for Berkeley's KALX FM in 1994. Reagan's assassination attempt is revisited, John Wayne's jingoistic rantings are recontextualized, and police intervene in this collage of tape/sonic manipulation and live instrumentation. Also includes excerpts from a 1994 KUSF performance, and an all-new bonus radio interception. Naive soundscapes in stereo.
(Originally released on cassette, now sold out... we have remastered onto CD-R, which comes with the original sleeve.)
$6.00 ($11.00 International Orders)

THE TWELVE STEPPES DEEP NORTH CD AND ACCOMPANYING MAGAZINE
(POREST SOUND #001)
A true story. Two brothers (the Twelve Steppes) made a pilgrimage to a suburb of Detroit, Michigan to visit twisted family and eke out a living in the dead of winter. From their experiences came this amazing diary/rant/observation in sound and read-along magazine form. Cut-ups and songs, intricately-designed with much use of "field recordings" from the suburbs, as well as musical contributions by MONO PAUSE, TWISH, and CLEM FORTUNA, make up a dadaist ethnographic commentary on middle-U.S. society and culture, complete with regional meal recipes. A one of a kind, uncomfortably funny project.
SOLD OUT - WE'LL TRY TO OBTAIN MORE IN FUTURE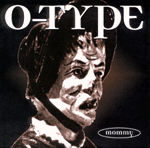 O-TYPE MOMMY CD (CPA-014)
The mutant Siamese twins of legendary post (pre?) art-rock group MX-80 SOUND create gorgeous, thundering, uniquely cerebral music on their second full-length release. Propelled by Bruce Anderson and Jim Hrabetin's spiraling guitars, O-Type's highly cinematic soundscapes are a fascinating counterpoint to their alter egos' more subdued delivery. Mostly instrumentals, with a few grimly amusing vocal tunes. A must for fans of Ralph Records era MX-80 in particular. NOTE! Your order now comes with an entirely REMASTERED CD-R of the album, taken from the original 1/4" master tapes, and significantly improved in sound quality over the original pressing!
$10.00 ($15.00 International Orders)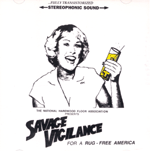 THE NATIONAL HARDWOOD FLOOR ASSOCIATION
SAVAGE VIGILANCE FOR A RUG-FREE AMERICA CD (CPA-005)
"Savage" is the operative word for perhaps the funniest crank-call collection ever released. A Christian radio talk show in Portland, Oregon was relentlessly pranked by a merry band of lunatics over a three-year period, and this classic 1992 CD presents their hilarious disinformation campaign in all its glory. From queries about finding a good Christian abortionist to bizarre prayer healing requests, this amazing CD hits those bibles below the belt! Accept no imitations!
CD $10.00 ($15.00 International Orders)

LP edition OUT OF PRINT


SCREENBRED CASSETTE (CPA-008) - now available in CD-R format - cassette edition is sold out
On their only full-length release, this amazing (now defunct) loop-and-sample duo creates their tunes almost entirely from found sound, using varying gradations of low-end consumer gear, tossing in a bit of their own instrumentation for good measure, and coming up with little ditties that might be perfect for mythical avant-garde AOR FM stations. An LP-length tape of quirky tunes for cathode casualties who have a love of Negativland, Tape-beatles, et al. A pre-lo-fi gem.
$6.00 (11.00 International Orders)

SMOOTH STONE DISTRIBUTION CORNER
The following items from other labels feature Electro Motive Records/Qualipy artists,
or we just think you might enjoy them.
MX-80 SOUND HARD ATTACK 2-CD SET (ORIGINAL LP + BONUS DISC!)
At last back in print, the first LP by Bloomington, Indiana's MX-80 SOUND, released in 1977 just before they relocated to San Francisco, is a masterpiece by any yardstick. Led by guitar virtuoso/monster Bruce Anderson, the legendary combo made a record somewhere between Pere Ubu, Sonny Sharrock and the Ventures, if such a thing is possible, and somehow got it released on Island Records in the UK. This led to their signing by the Residents' Ralph Records label and a further pair of utterly brilliant LPs (soon to be reissued by Superior Viaduct). Anderson's searing guitars and manic arrangements are shot through with the dry lyrical humor of singer Rich Stim, anchored by a brutal and spastic dual-drummer rhythm section.
For this mammoth reissue set, the original LP has been entirely remixed from scratch from the original multi-track tapes, undoing years of mixing errors and faulty mastering, by bassist Dale Sophiea and Mono Pause's Peter Conheim. Additionally, 19 entirely unreleased bonus tracks were unearthed from the band's vast archive and included on a seperate bonus disc, entitled "Bigger Hits" (a nod to their 1976 debut EP, "Big Hits"). MX-80 is still going strong today, and spun off additional projects O-Type, Lazyboy, Grale and others. [Superior Viaduct]
$16.00 ($21.00 International Orders)
PETROS DRECOJECAI MISTAKEN RECEPTIONS CD-R
According to the liner notes, written in (intentionally?) broken English, Petros Drecojecai was a would-be anthropologist visiting California from Hungary in the mid 1990's. Drecojecai spent much of his spare time in between conferences listening to and recording what he thought were American talk radio programs, but were in fact cordless phone transmissions of his neighbors that he was picking up. The excited and naive Drecojecai sent a cassette back to his native Hungary for his colleagues to listen to and now, years later, it has found its way back to our fair state in it the form of a CD-R. From banal accounts of toothaches to get-rich schemes involving putting things in one's butt, there's a wealth of strange calls here that will satisfy both the voyeur as well as the connoisseur of found sounds and field recordings. Diet tips, sex tips, court tips, junkie poets, stripping, reading the riot act to would be boyfriends, and much more. It's all you ever / never wanted to hear and more. [Petros Drecojecai Label / Hungarian import CD-R]
$11.00 ($16.00 International Orders)



V
ARIOUS ARTISTS KNORMALITIES V.2 - EXCLAMATORIES! 7"
Second release from Dephine Knormal Musik is a limited, numbered grey vinyl 7" with three otherwise unreleased tunes by Los Angeles' brilliant guitar virtuoso NELS CLINE, Switzerland's ALBOTH! and the Bay Area's massive MOE!KESTRA. The latter features a 16-piece version of the band covering THE EX 's "Godgloeiendeeteringklootzak" in an ear-splittingmega-rendition! [Dephine Knormal Musik]
$6.00 ($11.00 International Orders)
VARIOUS ARTISTS KNORMALITIES V.1 7"
Fantastic extended-length compilation record featuring unreleased cuts by RUINS, MONO PAUSE, FLYING LUTTENBACHERS (free-jazz lineup), MELT-BANANA, MOLECULES, VACUUM TREE HEAD and MOE! STAIANO. Heart-racing skronk, spy-fi rock, out-jazz, everything! A limited, numbered edition of 1000 copies.
"My favorite on this record is Mono Pause with a quirky odd sound that combines tribal percussion like early Swans with something that reminds me of The Residents" - CAUTION Cyberzine [Dephine Knormal Musik]
SOLD OUT!




VARIOUS ARTISTS LULLABIES FOR TOYWAR CD
From the Swiss art terrorists etoy comes this great new compilation CD. In 1999, internet toy giant Etoys.com sued etoy in an attempt to swindle the group out of their domain name. The attempt failed...enormously...as the corporate giant buckled under a maelstrom of grassroots support for etoy. Groups as diverse as NEGATIVLAND, PEOPLE LIKE US/JET BLACK HAIR PEOPLE/WOBBLY, MONO PAUSE, STEEV HISE and others submitted otherwise unreleased tracks to this CD to help defray the massive legal costs incurred in the lawsuit. Electro Motive Records has a limited amount of this disc for sale. [etoy.com]
SOLD OUT

PEOPLE LIKE US MEET THE JET BLACK HAIR PEOPLE ...IN CONCERT! CD
SOLD OUT FOREVER

VARIOUS ARTISTS EXTRACTED CELLULOID CD
The label which brought you the all-Beck mutation DECONSTRUCTING BECK now presents this all-cinema compilation. 20 artists including WET GATE, WOBBLY, BRAIN SCIENCE and more take chainsaws to movies of all stripes, from DR. STRANGELOVE and THE WIZARD OF OZ to TITANIC and recycled educational films. A bracing, wildly varied collection of plunders in a plain white wrapper. [Illegal Art/®tmark/Seeland]
SOLD OUT
LITTLE MY ASTHMA CD EP now in CD-R format - cassette edition is sold out
Out-of-print, tape-only 2nd release from 1992 by these Oakland popsters with 7 great tunes. Cassettes are now sold out, but we now offer a CD-R edition, converted at 24-bit A/D directly from the original master tape and packaged with its original lovely cement truck sleeve art. Fresh out of the gate, Little My was a sharp power trio anchored by the brilliant guitar shards of Mat Stahl and polyrhythmic percussion of Ad McCauley.
$6.00 ($10.00 International Orders)



WOBBLY GREETINGS CD
ORIGINAL EDITION SOLD OUT - LOOK FOR POSSIBLE REPACKAGING BY 200888

(t)ENTATIVELY, a (c)ONVENIENCE USIC - square root - 1 PICTURE DISC LP
SOLD OUT - MORE COPIES MAY BE AVAILABLE EVENTUALLY

DEADSECRATION mini-zine
What began as a series of internet pranks carried out on Grateful Dead Usenet groups took a rather timely turn with Jerry's demise, and this crass little magazine reprints all the classic moments from all sides of the discussions. A hilarious and nasty document as anonymously compiled by a recovering deadhead, featuring actual Dead bootleg tape fragments in each copy! Try playing 'em to see what great show you got! [Another Joe Reader]
SOLD OUT - MORE COPIES MAY BE AVAILABLE EVENTUALLY

VARIOUS ARTISTS AMERICA THE BEAUTIFUL DOUBLE CD
SOLD OUT FOREVER

GRAMMA SHROLL C-45 CASSETTE
Geoff Soule of Fibulator and Fuck and Mono Pause brings us this fantastic collection of 4-track tunes, minimal (yet over-the-top at the same time) missives of guitar and shriek and unease. Also known as Twish, Soule is a genuine renaissance man. [Gramma Shroll]
SOLD OUT FOREVER

click to add INTERNATIONAL POSTAGE and for ADDRESS INFORMATION